Introduction
Molded rubber parts are some of the most used components across industries. Molding is the process of converting natural or synthetic uncured rubber into a usable product by molding it into a shape and design of choice. In this process, a block of rubber or elastomer is pressed into a metal cavity that forms the mold.
This is then exposed to heat or pressure, which molds the block of rubber into the exact shape of the cavity it fills in. The final product is cooled down and then used.
Molded rubber has infinite uses in various industries, and the main advantage of molded rubber products is that they can be explicitly designed to meet your requirements. Some of the common molded rubber parts that you may commonly find being used are:
Materials used in rubber molding
Almost all types of rubber can be used to create molded rubber parts. Depending on the properties of some of these rubbers, the best materials are listed below.
EPDM
Nitrile
Neoprene
Silicone
EPDM are excellent insulating, abrasion resistance, and vulcanizing properties

Extremely resistant to ozone and UV rays

Outstanding resistance to extreme heat and cold
Highly resistant to abrasion

Does not absorb water

Moderately resistant to acids

Has high tensile strength of 3,500 PSI
Highly resistant to abrasion and acids

Extremely resistant to ozone and UV rays

Good resistance to extreme heat and cold

High tensile strength of 3,000 PSI
Extremely durable and moldable.

Greatly resistant to UV rays and ozone

Does not absorb water

Outstanding resistance to extreme heat and cold
Choosing the right type of rubber is very important when you want to create molded components. Make sure you talk to your rubber manufacturer to understand which material may work the best for you. This has to be decided based on the conditions the components will be exposed to.
We have a blog that talks extensively about rubber quality and how to choose the right kind of rubber. Do read this next.
Methods of creating molded rubber parts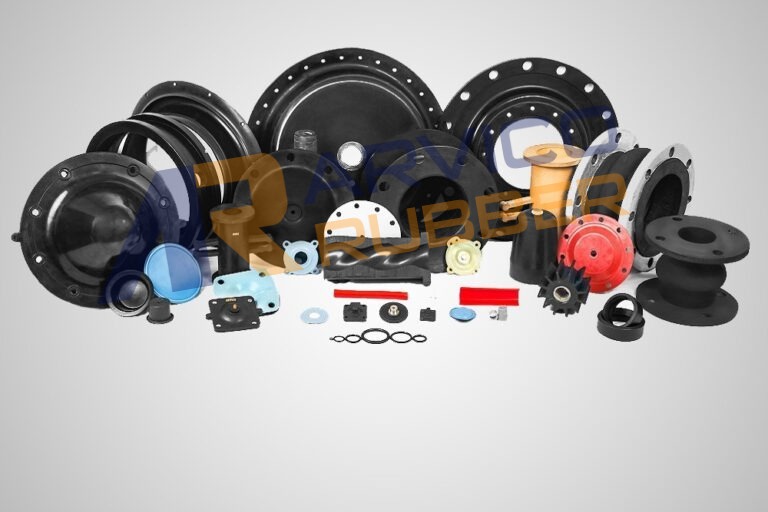 There are three common methods used to create molded rubber parts. The manufacturer will decide the right method based on product specifications, available budget, and the required precision.
Compression Molding
In compression molding, compressive force is used to mold rubber into the shape of choice. Compared to the other methods, compression molding is cheaper, simpler, and has easy prototyping stages. Here, rubber is placed in the molding cavity, and compression heat is applied to mold it into the shape and size of choice. The molded rubber parts are usually perfect in size and dimensions and require no or minimal reworking later on.
2. Transfer Molding
In transfer rubber molding, the rubber is transferred from one mold or cavity to another and hence the name. Initially, the rubber is placed in a heating mold. Once it is heated to the required temperature, it passes from here through sprue holes into the actual molding cavity. Once the molded end-product cools down, the mold is opened, and the component is removed.
This is a perfect method to use when the production volume is low or when there is less lead time to get the finished product.
3. Injection Molding
Molded rubber parts can also be produced through the injection molding method. Here, the raw material is initially heated to very high temperatures until it reaches a plastic-like consistency. This is now injected into the molding cavity and undergoes high pressure and temperature here. The raw material goes through a vulcanization process inside the cavity, and this helps achieve really high precision and quality.
Injection molding is definitely more expensive than the other two methods but is used when the output quality cannot be compromised. This is also perfect for high-volume molding requirements.
How can rubber molded parts solve industrial challenges?
Handling Rattling and Vibration
When a large machine with hundreds of smaller parts works at full speed, it is normal to expect rattling or shaking. However, rattling can lead to friction and cause damage to the internal components. In such large machines, replacing even a single part is going to be an expensive affair.
Rubber components are the easiest solutions to handle the rattling issue. Good quality molded rubber products can be used to dampen the vibrations and rattling effects and protect expensive parts.
Noise Cancellation
In really large industries, handling noise pollution can be really challenging. Machines make a lot of noise when they work and when humans are constantly exposed to such high decibels of noise, it can be harmful. Molded rubber parts are also excellent noise cancellation components when used strategically.
Get in touch with Arvico Rubber to know how best to use our molded components to reduce noise within your plant.
Re-Tweaking Existing Product Design
Let's say you want to re-tweak an existing product and want to make it more expansive or inclusive to a new client requirement. Instead of trashing the existing design and trying something new, make use of rubber moulding processes to re-tweak existing product designs. The fact that rubber is extremely moldable and flexible makes it a great choice to design at your will.
Improving Efficiency of a Machine or a Product
Problems like friction, vibrations, leaks, or choice of material can lead to a product performing inefficiently. Industries can smartly make use of molded rubber parts to improve the efficiency of a machine or a product easily. This saves the industry time and money.
Handling sealing challenges
In certain industries that use harmful gases or liquids in their production process, 100% sealing is a requirement and not a choice. Rubber molding is one of the most trusted methods to pick seals or valves that fit your machine perfectly. Buying ready-to-use seals may not give you the results that you are looking for.
Rapid Prototyping – can this be used?
This is becoming a very common question that most rubber manufacturers are being asked when the clients come for prototyping. Rapid prototyping is a newer trend in the molded rubber parts industry.
Prototyping is the act of creating a sample to check its quality, sizing, and dimensions before the full-fledged production process starts. Ideally, whatever method has been chosen to mold rubber in (compression, transfer, or injection) will be used to create prototypes.
These days, the trend of using 3D printing is on the rise. 3D printers create prototypes, and the process is rapid and really cheap.
However, it is to be noted that 3D printing is still an evolving technology. We would suggest clients create prototypes with both 3D printing and the traditional methods to see how different they turn out and then make a decision. Relying only on 3D printed prototypes may cause slight deviations in the size and shape of products you actually wanted.
Why choose Arvico Rubber to manufacture your custom molded rubber parts?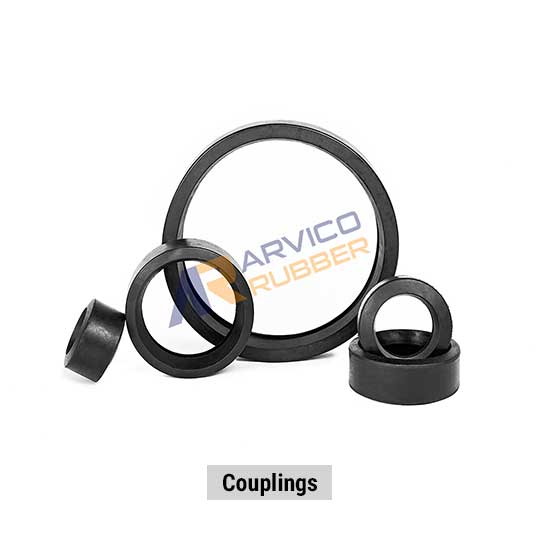 Arvico Rubber has 55+ years of working experience creating rubber molded parts. We have created more than 50,000 products based on specific customer requirements. Our in-house die casting and designing team will be able to create custom molds in the exact design specifications you want. Our prototypes are made after detailed analysis, and the final components go through a variety of internal and third-party quality tests.
We have produced molded rubber products for varied industries, including pharmaceuticals, petroleum and natural gas, food and dairy processing, electrical and electronics, packaging, automotive, textile, and more.
Molded rubber parts are integral for larger appliances, machines, and tools to function seamlessly. The quality of these smaller parts you choose determines the overall efficiency of these machines. Make sure you pick the right rubber component manufacturer. Arvico Rubber believes in creating long-lasting relationships with all our clients, and we deliver what we promise.