What is EPDM Rubber?
EPDM Rubber (Ethylene Propylene Diene Monomer rubber) is one of the most commonly used synthetic rubbers these days. The properties of EPDM rubber is any material that is produced using petroleum products. Synthetic rubbers are used for various applications and can be molded to make all kinds of products, from tiny spare parts to humongous tires!
Did you know that the global EPDM rubber market size was 1718 kilotons in 2021? It is projected to grow to 2338 kilotons in 2026! While the automotive sector is the largest user of EPDM, it is also used widely in other areas like heating and cooling industries, refineries, food and beverage industries, chemical industries, and more.
Under the A S TM International standards, EPDM is listed as an M-Class rubber. This M-class includes EPDM and all other elastomers that contain the saturated chain of a ubiquitous polymer called polyethylene.
As the name suggests, EPDM rubber is made of three major components – ethylene, propylene, and Diene Monomer.
Arvico Rubber offers its components in different types of rubbers, and EPDM is one important kind. A lot of our customers choose EPDM rubber for its various beneficial properties.
Properties of EPDM
Check out some of the critical properties of EPDM that will help you choose between this and other types like silicone, butyl, or nitrile.
| | |
| --- | --- |
| Properties | Industry values |
| Hardness Range (Durometer 'A') | 40-90 |
| Tensile Strength (psi) | 3000 |
| Specific Gravity | 0.86 |
| Heat Aging | 180 degrees Celsius |
| Elongation post-fracture | More than 300% |
| Service temperature (minimum to maximum) | -50 degrees Celsius to +150 degrees Celsius |
Apart from these, there are other properties of EPDM rubber you should be aware of.
The molecular structure of the rubber is made of a single bond. This means that it is extremely resistant to external conditions, and factors like UV rays cannot break this bond as easily as double bonds.
EPDM is also blessed with low electrical conductivity. This makes it a perfect choice to adhere to other metals.
EPDM rubber also can insulate from external noises. This is why it is being commonly used in the automotive industry.
The density of EPDM rubber can be between 0.90 to >2.00 g/cm3.
EPDM Rubber Applications and Uses
There are so many industrial uses due to properties of EPDM rubber, and it has become a common choice for components that would be exposed outdoors to wind, rain, UV rays, and other external factors. Here are some of the uses you should know of.
Construction – In construction industries, EPDM are favorite choices as roofing membranes and come in different widths and thicknesses.
Automotive – In the automotive industry, you can see this polymer being used generously for various purposes, including as sealants, harnesses for wires and cables, seals, bumpers, and even in brake systems. Most wiper blades are also made of EPDM rubber.
Manufacturing industries – Manufacturing industries use various Arvico Rubber's components like diaphragms, O-Rings, seals, valves, and gaskets. They choose these components in EPDM rubber because of their favorable properties. Check out our products page. You will be able to customize any of these in EPDM.
HVAC – The Heating Ventilation and Air Conditioning industry also uses EPDM rubber to make its gaskets, seals, insulation parts, PTFE, sleeves or seat rings, rubber stators, hoses and tubing. This material is preferred for its weather-resistance properties.
Other uses – Other than the above industries, EPDM may be used for a variety of other applications, including the following.
As insulators for electrical wires and applications
As an elastic element in straps, hangers, tie-downs, and cords
As solar panel elements to collect heat
In vibrators and belts to reduce noise
EPDM granules are mixed with flooring agents to add grip and stability while walking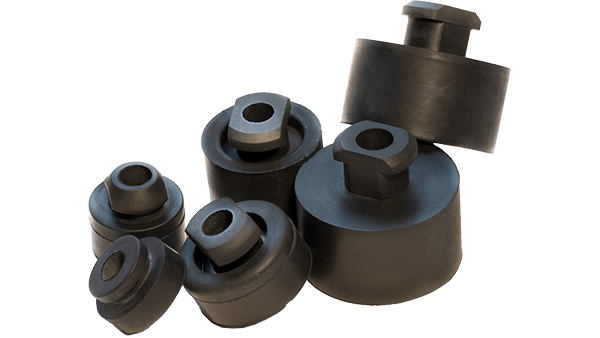 Advantages of Choosing EPDM
There are so many reasons why clients prefer having their components made out of EPDM. Some of the benefits are:
Excellent insulation properties, making it a perfect choice as sealants and insulators in electrical appliances.
Excellent vulcanizing properties, making the rubber resilient, tough, elastic, and viscous.
Excellent acid resistance (both concentrated and diluted), making this rubber a perfect choice for components used in chemical, pharmaceutical, and fertilizer industries.
Excellent abrasion resistance, giving the rubber long life.
Excellent resistance to oxidation. Oxidation is a natural process where the rubber reacts to oxygen and starts aging. Oxidation resistance improves the life of the material.
Excellent resistance to ozone damage, making this a perfect choice to use outdoors.
Excellent ability to manage extreme temperature changes.
Excellent adhesion to metals and fabrics.
Excellent tear and abrasion resistance, so you can use PDM components in rough conditions.
EPDM rubber can also be fire resistant, adding to the safety of your unit.
Are there any disadvantages of EPDM Rubber?
EPDM rubber may not be a good choice in petroleum-based industries as it breaksdown faster when exposed to petroleum products.
Conclusion
A mid-range manufacturing company may need thousands of rubber components to function seamlessly. Each of your processes may need components made of the right type of polymer too. EPDM rubber is definitely a popular choice out there.
EPDM rubber offers many advantages to our clients' production lines and lasts really long. If your components are to be installed outdoors, EPDM is perfect for the reasons stated above. However, make sure you explore the other types in the market too and ensure you choose the best material of all. Arvico Rubber offers components in other materials too, including Natural, Nitrile, Neoprene, Hypalon, Silicone, Butyl, Teflon, and Polyurethane.
Our experts from Arvico Rubber will be able to help you out with the right component material choice depending on your specific requirements.
Feel free to get in touch with us to know more.